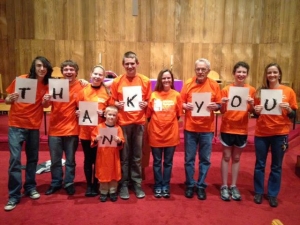 Micah's Backpack welcomes volunteers to pack and deliver backpacks on a weekly basis during the school year. Weekly packing takes place at St. Michael's Lutheran Church, located at 2308 Merrimac Rd. in Blacksburg. Thursdays we pack bags from 6:00 pm to 7:00 pm. Individuals or groups/clubs (who create their own rotating schedule of 2 volunteers ) gather to fill 280 gifts for children and youth in our community. Fridays we deliver bags to 10 schools. Individuals may sign up to deliver bags between 9 am and noon to our partner schools.
Food Drives
We use the following food items in individual or microwaveable sizes:
Pasta in Can (14.75 oz can or smaller)
Chicken Noodle Soup (14.75 oz can or 7.5 oz microwaveable cup)
Peanut Butter (10.75 oz can)
100% Juicebox (8 oz)
Oatmeal (Box with Individual Packages)
Tuna (5 oz)
Macaroni and Cheese Singles (2.05 oz)
Beanie Weenies (7.75 oz)
Can of Vegetables (8 oz or smaller)
Milk
Fruit Cups
Fruit Snacks
Granola Bars
Cereal
Bag of Crackers
Bag of Prezels
Toothbrush
Thank you to everyone who supports Micah's Backpack.
With your help, we make a difference in the lives of students in need!